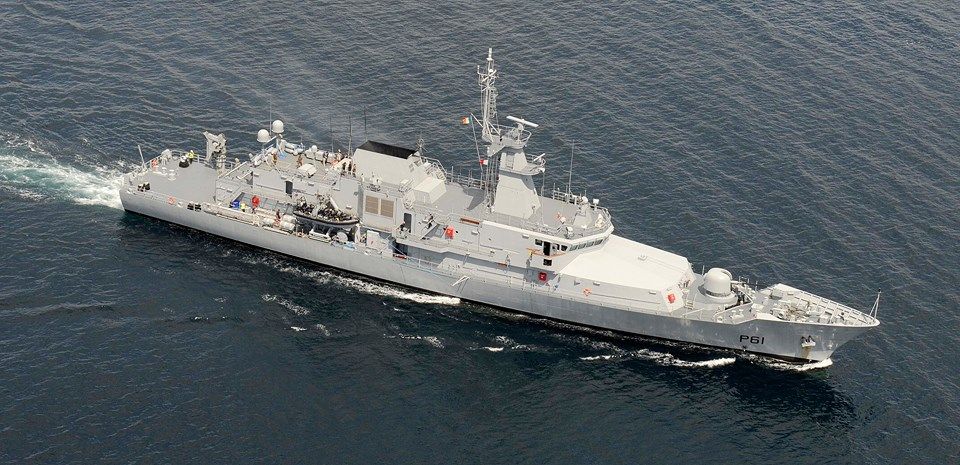 The LE Samuel Beckett class is a class of 3 (and a further ship ordered). Offshore Patrol vessels designed for fisheries protection, search and rescue, maritime protection and boarding operations. Named after Irish writers a break with tradition of naming vessels after women from Irish Mythology. The first vessel was laid down in November 2011 and Commissioned In May 2014. With the second vessel delivered in 2015 and the third was named in 2016 with a fourth vessel ordered in 2016 for the cost of £30 million.
The Vessels are:-
LE Samuel Beckett
LE James Joyce
LE William Butler Yates
Designed by Vard Marine Inc and based on an earlier design the LE Roisin. Designed to work on the Atlantic coast of Ireland. They are fitted to work with Remotely operated submersibles and decompression chambers for divers. And Unmanned aerial vehicles.
Built by Babcock Marine at appledore in North Devon and fitted out by Moss Marine in Southampton.
The vessel is powered by 2x Wartsilia 6 cylinder Diesels.
Displacement: 1933 tonnes
Length: 90 M
Beam: 14 M
Draught: 3.8 M
Power: 2x Wartsilla 6 cylinder
Speed: 15 Kn cruise
23 Kn Maximum
Range: 11,000 Km
Boats: 3x 8m RHIB
Complement: 54 (44 & 10 trainees)
Armament:
1 x 76mm Oto Melara
2 x 20mm Rheinmetall RH202 cannon
2x 12.7mm Browning Machine Gun
4x 7.62mm FN MAG