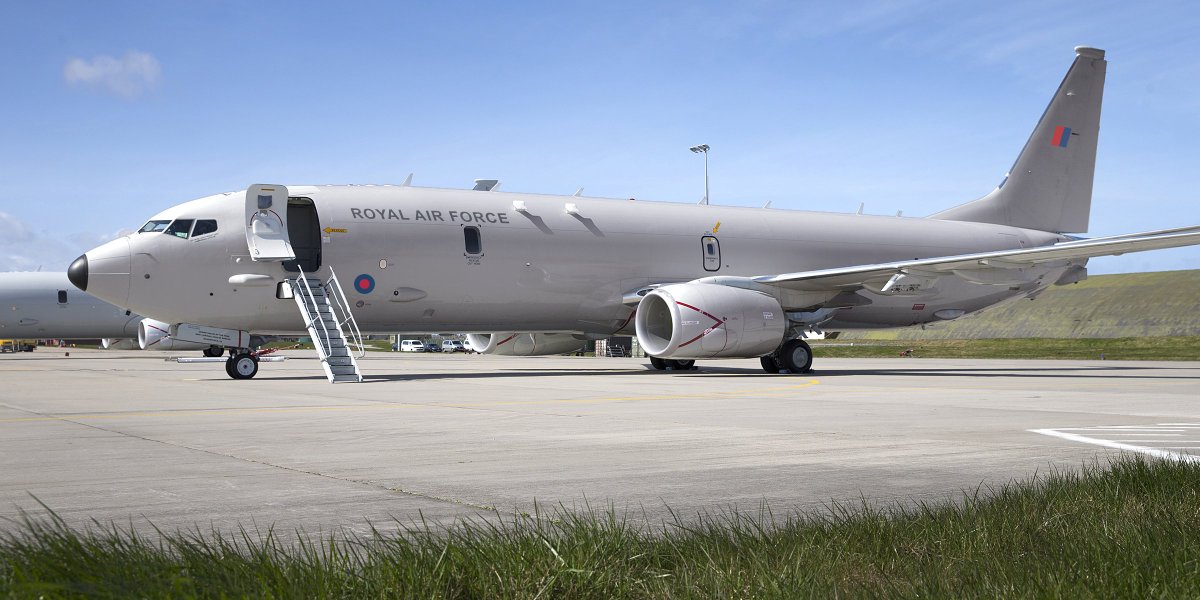 ^
RAF Poseidon MRA Mk.1 (Artists impression)
Introduction
The Boeing P-8 Poseidon (formerly the Multimission Maritime Aircraft or MMA) is a military aircraft developed for the United States Navy. The aircraft has been developed by Boeing Defence, Space & Security, modified from the 737-800ERX.
The P-8 conducts anti-submarine warfare (ASW), anti-surface warfare (ASUW), and shipping interdiction, along with an electronic signals intelligence (ELINT) role. This involves carrying torpedoes, depth charges, Harpoon anti-ship missiles, and other weapons. It is able to drop and monitor sonobuoys. It is designed to operate in conjunction with the Northrop Grumman MQ-4C Triton Broad Area Maritime Surveillance unmanned aerial vehicle. The aircraft has been ordered by the Indian Navy as the P-8I Neptune, Royal Australian Air Force, and Royal Air Force.
United Kingdom (Royal Air Force)
In August 2012, it was reported that Boeing saw the United Kingdom as a market for the P-8, following the cancellation of Nimrod MRA4. On 23 November 2015, the UK announced its intention to order nine P-8s in the Strategic Defence and Security Review 2015. They are to be based at RAF Lossiemouth, Scotland and shall protect the UK's nuclear deterrent and aircraft carriers, as well as perform search-and-rescue and overland reconnaissance missions.
On 25 March 2016, the U.S. State Department approved a proposed Foreign Military Sale to the UK for up to nine P-8s and associated support at an estimated cost of $3.2 billion. The Royal Air Force plans to operate the P-8 with U.S. weapons initially, and may transition to British weapons later. It is unclear whether the UK will have access to future ground-surveillance capabilities developed for the P-8. On 11 July 2016, Boeing announced the signing of a $3.87 billion (£3 billion) contract for nine P-8s and support infrastructure; spread across three production lots over a ten-year period, deliveries commenced in 2019.
The RAF has designated it the Poseidon MRA1. They will be operated by No. 120 Squadron and No. 201 Squadron, which will be reformed in 2021 as the second squadron to be equipped. The first MRA1 made its initial flight on 13 July 2019. The UK took delivery of the first Poseidon MRA1, named Pride of Moray, at Boeing's Seattle facility on 29 October. It will operate from Kinloss Barracks from February 2020 while new facilities are built at its homebase of RAF Lossiemouth, Scotland. These are due to be completed in the second quarter of 2020, where it will be fielded by 120 Squadron, stationed at RAF Lossiemouth. The RAF declared the P-8 had reached initial operating capability (IOC) on 1 April 2020, by which time two of the planes had been delivered.
Specifications

(USN)
Crew:
Flight: two; Mission: seven
Length:
129 ft 5 in (39.47 m)
Wingspan:
123 ft 6 in (37.64 m)
Height:
42 ft 1 in (12.83 m)
Empty weight:
138,300 lb (62,730 kg)
Useful load:
19,800+ lb (9,000+ kg)
Max. takeoff weight:
189,200 lb (85,820 kg)
Powerplant:
2 × CFM56-7B turbofan, 27,000 lbf (120 kN) each
Maximum speed:
490 knots (907 km/h, 564 mph)
Cruise speed:
440 kn (815 km/h, 509 mph)
Combat radius:
1,200 nmi (2,222 km) ; 4 hours on station (for anti-submarine warfare mission)
Ferry range:
over 4,000 nautical miles (7,500 km)
Service ceiling:
41,000 ft (12,496 m)
Armanent:
5 internal and 6 external stations for AGM-84H/K SLAM-ER, AGM-84 Harpoon, Mark 54 torpedo, missiles, mines, torpedoes, bombs, and a High Altitude Anti-Submarine Warfare Weapon system.
Avionics:
Raytheon APY-10 multi-mission surface search radar (Advanced Airborne Sensor surface search radar and SIGINT package to be follow on system)