From Janes
The UK's Defence and Science Technology Laboratory (Dstl) has disclosed details regarding the proposed roll-out of the British Army's next-generation anti-tank capability, called the Battle Group Organic Anti-Armour (BGOAA) programme.
Speaking to Janes , Dstl and British Army officials described their latest concepts regarding the BGOAA, which is expected to enter service throughout the 2030s.
According to Lieutenant Colonel Mike Baxter, SO1 Light and Medium Forces, British Army, BGOAA will seek to identify
potential replacements for a variety of legacy anti-tank solutions, including Swingfire, Javelin, Next generation Light Anti-tank Weapon (NLAW), and Anti-Structure Munition (ASM).
"These systems were designed in the 90s and 00s, with early 2000s conflict in mind, typically as dismounted systems and not optimised for on-the-move operations. During the lifetime of these systems, they have not really faced a significant armour threat," Lt Col Baxter said.
General Dynamics Land Systems and MBDA have designed the 'Overwatch' concept: Brimstone multi-rocket launchers integrated on Ajax or Boxer vehicles. (MBDA)
Challenges being considered by Dstl and the army as part of the BGOAA
General Dynamics Land Systems and MBDA have designed the 'Overwatch' concept: Brimstone multi-rocket launchers integrated on Ajax or Boxer vehicles.
(MBDA)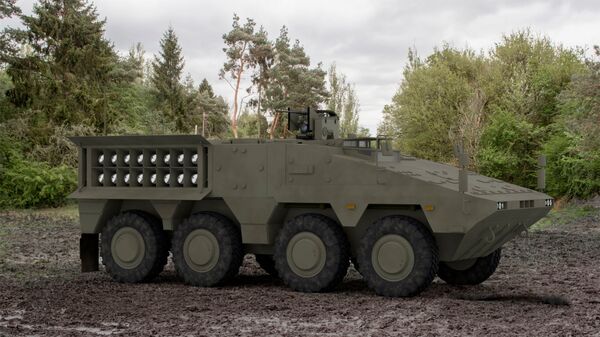 "BGOAA takes the experience of the last few years with the aim of providing accurate, long-range engagement capabilities down to the section level against armoured and non-armoured targets," he said.
Challenges being considered by Dstl and the army as part of the BGOAA solution include the proliferation of vehicles' integrated active protection systems and multispectral imaging sensors, which can leave anti-armour platforms with "nowhere to hide".
BGOAA comprises several sub-programme elements: Close in Self Defence (CISD), Close Combat Anti-Armour Weapon-Dismounted (CCAAW-DM), Close Combat Anti-Armour Weapon-Mounted (CCAAW-M), and Mounted Close Combat Overwatch (MCCO). MCCO is the first sub-programme to be actively pursued because of emerging requirements from the army.
According to Dstl's Close Combat Guided Weapons Science and Technology lead, Mark Pickering, BGOAA is now in an early acquisition and pre-concept phase. Its capabilities will be staggered into service throughout the 2030s, Pickering said, adding that MCCO will represent the army's first priority in the wider BGOAA programme.
"We have the wrong equipment for the next generation of conflict, especially when you consider the proliferation of cyber technology and similar. So we must adopt a high level of agility to counter [the] advanced technologies we might face," Pickering told Janes . "We want to be in a situation where we can engage the enemy with a single shot. Today, we are not in a good position for attritional warfare and we need to add lethality so we can achieve that overmatch. So we are looking at a complete suite of anti-tank capability in the 2030s and beyond."
Demanding a maximum effective range of greater than 10 km for the MCCO, the army is considering 50 kg-class effectors to provide a long-range, anti-armour capability. Such a solution must be capable of being cued by third party assets such as unmanned aerial systems (UASs) and attack helicopters.
Effectors are also expected to be launched from a variety of host platforms including a pair of munitions from a small unmanned ground vehicle (UGV), eight munitions from a vehicle's remote turret, and more than 36 munitions from a vertical launch system (VLS).
The CCAAW programmes are looking to identify a successor for Javelin, with the aim of at least doubling its range and including beyond line-of-sight (BLOS) engagements. Technology areas of interest cover conventional and non-conventional guidance solutions, Dstl officials noted.
Finally, the CISD programme will replace NLAW and ASM effectors with a requirement to "significantly" extend the range for anti-armour and multi-effect fire missions. The British Army envisages fielding either a single or two different systems to satisfy this.
Dstl is also focused upon a series of technology areas of interest to support BGOAA. These include smaller, wider spectrum, and lower cost sensors; counter defensive aid suite technologies; third party hand-off; system modularity; and BLOS capabilities.
The laboratory said it is being supported by UK-based companies including BAE Systems, Leonardo, Lockheed Martin, MBDA, Saab, Thales, QinetiQ, and Ultra Electronics. This includes supporting the Weapons Sector Research Framework (WSRF) for which Lockheed Martin, MBDA, and Thales have offered conceptual mock-ups to support BGOAA.
Concepts include a Lockheed Martin VLS mounted on a 8×8 Boxer vehicle: the British Army's platform for its Mechanised Infantry Vehicle (MIV). Lockheed Martin images illustrate a UAS or other aircraft cueing VLS-launched munitions onto a BLOS target.

Lockheed Martin has also produced an additional concept to support force protection requirements based on a shipping container with integrated VLS for fixed site or mounted applications.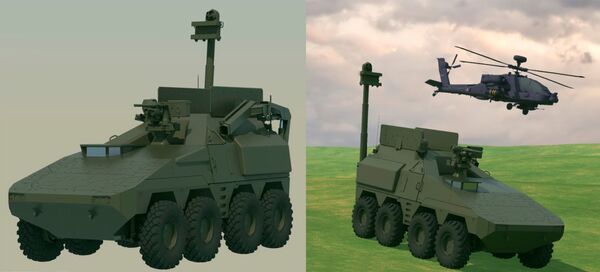 MBDA concepts included Brimstone multirocket launchers integrated on Ajax and Boxer platforms. On 26 April General Dynamics Land Systems unveiled a collaboration with MBDA, designated 'Overwatch', which is designed to operate in the "vanguard of the British Army's future Heavy Brigade and Deep Recce Strike Combat Teams".
Thales' concept included the Ares Remote Turret and a 'future light' VLS on manned/unmanned ground vehicles.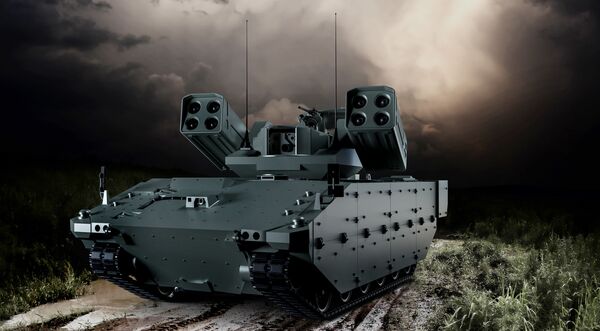 Dstl and DE&S are also planning series of proposed Technology Demonstrator Programmes focused on common guided weapons turrets and small guided missiles. This includes ongoing co-operation with the WSRF focused on exploring "near, medium, and long-term" developments in remote weapon stations, VLSs, and UGV missile systems.
BGOAA will be enabled by an MoD-owned electronic architecture meant to facilitate interoperability with other strategic areas, including ground-based air defence.
Dstl is also seeking next-generation subsystems covering a "new generation of seekers, active protection system resilient technology, new launch systems, and new warheads".
The laboratory is expected to shortlist up to 10 concepts under the BGOAA umbrella, Pickering told Janes . "As the equipment programme matures, then assessment phases and detailed assessments of the system in 2022 and beyond will follow, with trials designed to inform a commercial decision. Our aspiration is to demonstrate a remote turret between 2023 and 2025," he added.
Comment
The British Army has outlined new concepts to satisfy emerging demand signals for operating against peer and near-peer armed forces. New technology will be able to support many of these demands but the army will likely still seek short- to mid-term upgrades of legacy anti-armour solutions ahead of BGOAA's potential entry into service, which is still a decade away.