Introduction:
Bravely following in the footsteps of so many UK aviation startups - that usually fizzle away to nothing - Aeralis was originally founded as DartJet in 2015.
The CEO and founder Tristan Crawford, who was previously with Airbus and BAE, has been seeking investors to back the company for about two years. With an original target of £1m to build a prototype, a quick check on Companies House suggests they were about a third of the way there when they filed their last accounts in July 2018.
With a team drawn from ex-RAF personnel, the engineering sector and government policy experts AERALIS appear to be a more serious proposition than some of those that have gone before. They have also signed a number of MoUs with different firms to partner for design and manufacture (some listed below).
Support from Bombardier and Thales has been suggested, though to what extent is to be seen. The latest Aerospace Manufacturing article (link below) also mentions: ARA, Stirling Dynamics, Frazer-Nash Consultancy, TFD Europe and Cranfield Aerospace Solutions.
Concept:
The AERALIS concept is based around designing a modular air-frame which can swap out engines, cockpit configuration and even the wings to fit different requirements and applications.
The suggestion is that by sharing common components and features, the aircraft will be able to meet different training requirements, whilst benefiting from commonality of the fuselage and avionics. They tout a figure of being about 30% less expensive than 'conventional' training aircraft.
"Manufacturing of significant parts of the aircraft will be distributed, but the final assembly we hope will be at MoD (formerly RAF) St Athan in South Wales," states Matt Powlson, chief systems engineer at AERALIS. "The design concept behind the aircraft is modular in broadly four key structural areas – the common core fuselage, wings, empennage and then the nacelle for the engine(s).
This commonality is expected to also shorten the time it takes to train a combat pilot, as they progress from one familiar training platform to another.
AERALIS seeks to use a combination of a common metal fuselage with composites utilised for the modular wings, tail assembly and engine nacelle(s).
The proposed power-plant for AERALIS are Honeywell/ITEC F-124 engines, though it has been suggested that they could vary based upon the customer and industrial agreements.
Proposed Variants:
The company is currently showcasing three different variants built upon a shared airframe. When they were DartJet, there was talk of a 'light attack' aircraft (the classic pie-in-the-sky aviation start-up product) but that has been dropped from their marketing material. The three proposed variants are:
AERALIS-A: Advanced Trainer
Swept wing, advanced performance
AERALIS-B: Basic Trainer
Single-engine, straight wing, benign handling
AERALIS-x: Aerobatic Display Aircraft
Single or Twin-engine, optimised role designs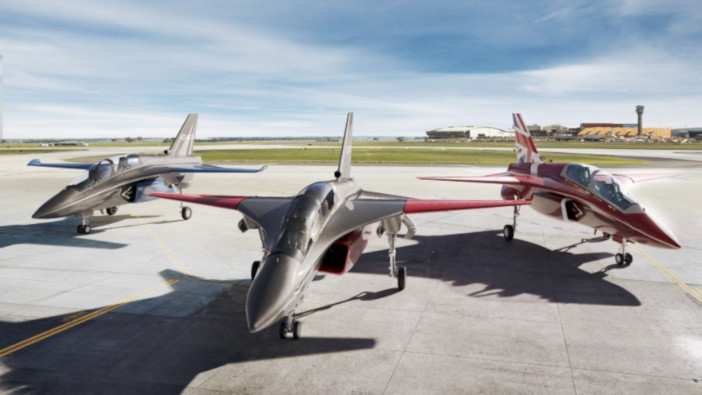 The 'A' variant is upfront, with the B to the left and the X on the right, in the above image:
More Info:
Aeralis:
https://aeralis.com/
Aerospace Testing International:
https://www.aerospacetestinginternation ... craft.html
Air Recognition:
https://www.airrecognition.com/index.ph ... h-kbr.html
FlightGlobal:
https://www.flightglobal.com/fixed-wing ... 51.article
Aerospace Manufacturing (Latest article):
https://www.aero-mag.com/aeralis-modular-design-170420/